Grounding reduces stress and inflammation
Posted on Mon, 11 Jun 18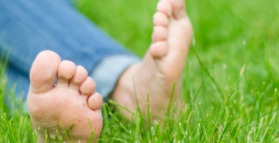 Grounding or earthing has been shown to help improve physical and mental wellbeing, and a new clinical study has indicated important health benefits for stress and inflammation.
Despite sounding a bit new age, there is in fact good scientific rationale and several clinical studies to support health benefits of grounding (earthing), in particular for stress, sleep, pain, cardiovascular and immunological health [1].
To see if grounding is a feasible way to reduce physical and emotional burnout in massage therapists, a grounding experiment was conducted over 4-weeks by a research group that notably included grounding research pioneer Gaétan Chevalier and Deepak Chopra, both from the University of California [2].
During the study, the participants were grounded using a grounding mat placed on the floor around the massage table in addition to using a grounding tummy band that they used at home during sleep.
Several measures of physical wellbeing were found to change with grounding. Biomarkers of stress, including heart rate, respiratory rate and hear rate variability and blood viscosity all improved. Furthermore, grounding appeared to attenuate inflammatory markers (IFN-γ, TNF-α, and hsCRP) which increased rapidly when the participants stopped the experiment.
"This study's findings suggest that grounding is beneficial for massage therapists in several domains relevant to health and wellbeing," concluded the study investigators.
References:
Oschman JL, Chevalier G, Brown R. The effects of grounding (earthing) on inflammation, the immune response, wound healing, and prevention and treatment of chronic inflammatory and autoimmune diseases. J Inflamm Res. 2015 Mar 24;8:83-96.
Chevalier G, et al. Effects of Grounding (Earthing) on Massage Therapists: An Exploratory Study. Health. Vol.10 No.02(2018).
Related Articles
Comments