Diet induced depression and anxiety
Posted on Thu, 16 Jul 09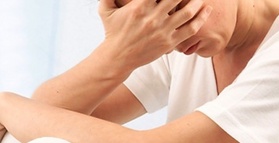 Feeling depressed or anxious? You are not alone. More than 1 in 4 people will suffer from serious anxiety and almost 1 in 5 from major depression. With anxiety and depression so common it is important to be reminded that food can affect mood and may offer a safer alternative to medication [1-3].
Dietary nutrients play an important role in supporting mental health and unhealthy dietary habits along with low intakes of several important dietary nutrients have been associated with depression and anxiety [4-7].
Anxiety and depression are in part the result of chronic stress which increases the activity of our nervous system sending it into a state of hyperactivity. This same hyperactivity of the nervous system is associated with alcoholism, obsessive compulsive behaviour and insomnia which may explain why these conditions often coexist [8].
Recently it was found that women who consumed healthier diets had reduced nervous system activity indicating a healthier, calmer mental state [9]. In particular women who consumed foods close to a Mediterranean diet rich in fruits, vegetables, nuts and seeds, modest red wine, olive oil, whole grains, legumes and fish had a healthier stress response.
A number of studies have found a relationship between food and mood. A Mediterranean style dietary pattern provides a broad range of nutrients from healthy foods and may help prevent and manage anxiety and depression [10].
References
1. Devane CL et al. Anxiety disorders in the 21st century: status, challenges, opportunities, and comorbidity with depression. Am J Manag Care. 2005 Oct;11(12 Suppl):S344-53.
2. Lakhan Patten SB. Major depression prevalence is very high, but the syndrome is a poor proxy for community populations' clinical treatment needs. Can J Psychiatry. 2008 Jul;53(7):411-9
3. SE, Vieira KF. Nutritional therapies for mental disorders. Nutr J. 2008 Jan 21;7:2.
4. Bonnet F et al. Anxiety and depression are associated with unhealthy lifestyle in patients at risk of cardiovascular disease. Atherosclerosis. 2005 Feb;178(2):339-44.
5. Szewczyk B et al. Antidepressant activity of zinc and magnesium in view of the current hypotheses of antidepressant action. Pharmacol Rep. 2008 Sep-Oct;60(5):588-9.
6. Coppen A, Bolander-Gouaille C. Treatment of depression: time to consider folic acid and vitamin B12. J Psychopharmacol. 2005 Jan;19(1):59-65
7. Kidd PM. Omega-3 DHA and EPA for cognition, behavior, and mood: clinical findings and structural-functional synergies with cell membrane phospholipids. Altern Med Rev. 2007 Sep;12(3):207-27.
8. Tsigos C, Chrousos GP. Hypothalamic-pituitary-adrenal axis, neuroendocrine factors and stress. J Psychosom Res. 2002 Oct;53(4):865-71.
9.García-Prieto MD, et al. Cortisol secretary pattern and glucocorticoid feedback sensitivity in women from a Mediterranean area: relationship with anthropometric characteristics, dietary intake and plasma fatty acid profile. Clin Endocrinol (Oxf). 2007 Feb;66(2):185-91.
10. Sánchez-Villegas A et al. Mediterranean diet and depression. Public Health Nutr. 2006 Dec;9(8A):1104-9
Image: Bsip Chassenet, Science Photo Library.
Tags: Stress, Depression, Anxiety
Related Articles
Comments