Butter not so bad, but is it healthy?
Posted on Mon, 26 Sep 16
A large review of associations between butter and chronic disease has been reported in the media as evidence that "butter is back," but should you really be eating more butter?
Controversy and uncertainty around the role of saturated fat in heart disease has led to increasing butter intakes despite health risks, or benefits, of butter still being unclear.
To see if eating butter is associated with chronic disease a large systematic review of nine studies including 15 country-specific cohorts representing 636,151 unique individuals looked at associations between reported butter consumption and deaths, cardiovascular disease, and type 2 diabetes.
The results revealed that butter consumption was associated with a small increase in all-cause mortality, no significant association with incident cardiovascular disease, and slightly protective against type 2 diabetes.
This was reported in the media as support for butter being healthy, with the New York Times stating that "the case for eating butter just got stronger," for example [2].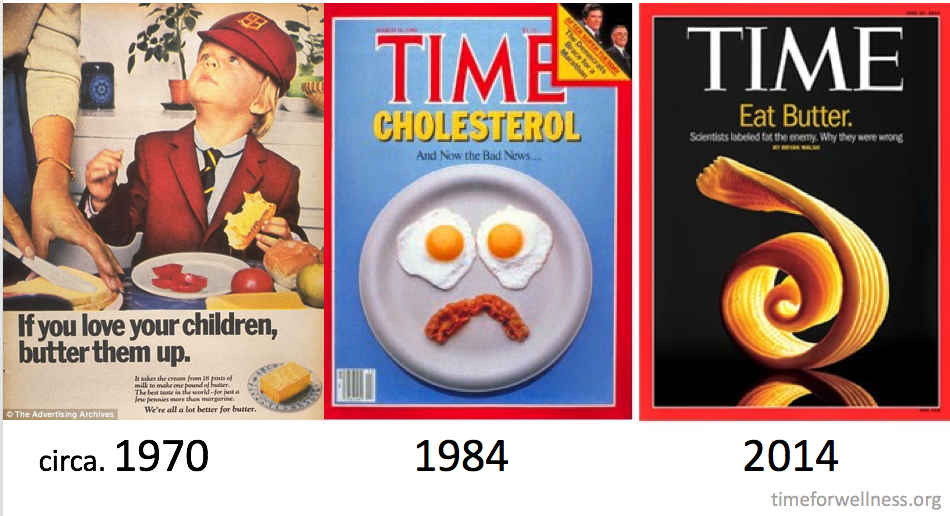 However, this is not what the study found, on the contrary it found that butter is not particularly bad for you, nor is it particularly healthy.
The study's senior author, Dariush Mozaffarian from Tufts University, noted that "overall, our results suggest that butter should neither be demonized nor considered 'back' as a route to good health [3]."
What is missing in media reports is the context of butter vs. healthier choices. "… butter may be a more healthful choice than the white bread or potato on which it is commonly spread," said the authors. But, in contrast, healthful oils such as flaxseed and extra-virgin olive oil, appear to be healthier choices than butter, they noted.
They also pointed to a comparative analysis where substitution of 8 g olive oil for an equivalent amount of butter was associated with an 8% reduction in the risk of type 2 diabetes [4]. "Thus, even with an absence of major health associations in the present investigation, healthier (and less healthy) alternatives may be available."
References:
1. Pimpin L, Wu JH, Haskelberg H, et al. Is Butter Back? A Systematic Review and Meta-Analysis of Butter Consumption and Risk of Cardiovascular Disease, Diabetes, and Total Mortality. PLoS One. 2016 Jun 29;11(6):e0158118.
2. Sifferlin A. The Case for Eating Butter Just Got Stronger. Time Magazine. June 29, 2016.
3. Press Release: TUFTS UNIVERSITY, HEALTH SCIENCES CAMPUS. Little to no association between butter consumption and chronic disease or total mortality. 29-JUN-2016
4. Guasch-Ferre M, Hruby A, Salas-Salvado J, et al. Olive oil consumption and risk of type 2 diabetes in US women. The American journal of clinical nutrition. 2015; 102(2):479–86.
Tags: Butter, Heart Disease, Olive Oil
Related Articles
Comments