Breast cancer and vitamin D
Posted on Wed, 12 Aug 09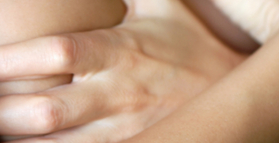 Although health authorities are slow to accept the relationship between vitamin D deficiency and cancer development, there is now abundant evidence to show that low vitamin D levels play a causative role in the development of several common and deadly cancers including colon, ovarian and breast cancer [1].
The sunlight cancer connection
Early studies in Russia, the United States and Canada found a strong link between sun exposure and breast cancer risk, that is that women who enjoyed more sunlight had a lower breast cancer risk [2]. Large studies have also found that women with low vitamin D levels have a much higher risk of developing breast cancer and that women with early stage breast cancer may have an increased risk of cancer reoccurrence or death if their vitamin D levels are low [3,4].
Vitamin D keeps cancer in check
One of the features of cancerous cells is that they display abnormal growth and replication as well as the ability to invade surrounding tissues. Vitamin D is a key factor in regulating healthy cell growth and replication, in fact vitamin D in known to regulate or "keep in check" more than 200 genes responsible for healthy cellular growth and replication and has also been shown to inhibit cancer growth [5,6].
Dose up on D
There is considerable evidence to show that regular use of vitamin D supplements decreases breast cancer risk, and a recent estimate projected that raising vitamin D levels in the general population would prevent approximately 58,000 new cases of breast cancer in the United States and Canada alone [6].
The recommended intake of vitamin D for cancer prevention may be slightly higher than for other diseases and a panel of world renowned scientists currently urge a regular intake of 2000IU of vitamin D daily to reduce cancer risk [6].
References
1. Grant WB, Boucher BJ. Current impediments to acceptance of the ultraviolet-B-vitamin D-cancer hypothesis. Anticancer Res. 2009 Sep;29(9):3597-604.
2. Bertone-Johnson ER. Vitamin D and breast cancer.Ann Epidemiol. 2009 Jul;19(7):462-7.
3. Crew KD, Gammon MD, Steck SE, Hershman DL, Cremers S, Dworakowski E, Shane E, Terry MB, Desai M, Teitelbaum SL, Neugut AI, Santella RM. Association between plasma 25-hydroxyvitamin D and breast cancer risk. Cancer Prev Res (Phila Pa). 2009 Jun;2(6):598-604
4. Goodwin PJ, Ennis M, Pritchard KI, Koo J, Hood N. Prognostic effects of 25-hydroxyvitamin D levels in early breast cancer. J Clin Oncol. 2009 Aug 10;27(23):3757-63.
5. Goodwin PJ. Vitamin D in cancer patients: above all, do no harm. J Clin Oncol. 2009 May 1;27(13):2117-9
6. Garland CF, Gorham ED, Mohr SB, Garland FC. Vitamin D for cancer prevention: global perspective. Ann Epidemiol. 2009 Jul;19(7):468-83.
Tags: Vitamin D, Cancer, Breast Cancer
Related Articles
Comments