Bathing: science reveals health benefits
Posted on Tue, 7 Aug 18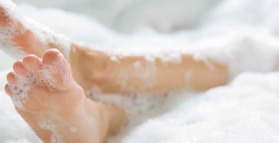 Enjoy a good bath? A study that compared health benefits to showering found significantly greater physical and mental health benefits.
Although showering is the most popular way to wash world-wide, there may be distinct health benefits unique to whole-body immersion bathing in warm water.
A Japanese research group previously found that there may be better health status, including sufficient sleep and rest, low levels of stress, and high subjective happiness in people who bathed regularly. Subsequently they conducted a bathing intervention study to better determine health effects.
In a randomized controlled trial people were assigned to "immersion bathing in warm water (40°C) for 10 min (bathing intervention) followed by 2-week shower bathing without immersion (showering intervention) or vice versa.
Compared to showering, bathing resulted in significantly lower scores for fatigue, stress, pain. Scores for happiness, general health, mental health and social functioning were significantly improved, and tended to be better for self-reported skin condition.
Measures of mood such as stress, tension-anxiety, anger-hostility, and depression-dejection were also lower for bathing when compared to showering.
'Immersion bathing, but not shower bathing, exerts hyperthermic action that induces increased blood flow and metabolic waste elimination, which may afford physical refreshment," concluded the study investigators." "Immersion bathing should improve both physical and emotional aspects of quality of life."
Reference:
Goto Y, Hayasaka S, Kurihara S, Nakamura Y. Physical and Mental Effects of Bathing: A Randomized Intervention Study. Evid Based Complement Alternat Med. 2018 Jun 7;2018:9521086.
Tags: Bathing
Related Articles
Comments