5 safe alternatives to antidepressants
Posted on Sun, 8 Feb 15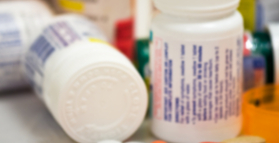 There are alternatives to synthetic, toxic drug treatments for depression and while they have not received the financial funding patentable chemicals do, they appear to work just as well and without the side effects.
Anti-depressant drug prescriptions are very common, but they should not be the first-line of treatment. For example, the National Institute for Health and Care Excellence (NICE) guidelines for depression state that before prescribing you medication your doctor should recommend exercise or a talking treatment such as counseling.
And there are a number of promising alternative treatments you could try including nutritional and herbal medicines, which may work just as well as drugs and have a better safety profile.
1. Saffron
A recent systematic review of six studies of the herb saffron for depression concluded that saffron was very effective and has similar antidepressant efficacy to medication, with no side effects (1). Most studies use 15 mg of extract twice daily.
2. St Johns Wort
The herbal medicine St Johns Wort has been very well studied for depression. A meta-analysis of 29 clinical studies including 18 comparisons with placebo and 17 comparisons with synthetic antidepressants concluded that St Johns Wort is as effective as standard antidepressants and has fewer side effects (2). A dose of 300 mg of an extract three times daily can be effective.
3. Exercise
Studies have shown that in people with existing depression and anxiety an "exercise prescription' can be very effective for relieving symptoms. Try 3–4 sessions a week for at least 20–30 minutes. Most studies show significant benefits after a few months. An activity diary is recommended and moderate intensity activities such as walking are more successful than vigorous physical activity programs (3).
4. Multivitamins
Nutrition is essential for normal brain functioning, and sub-optimal intakes of several nutrients are very common. In fact the symptoms of many vitamin and mineral deficiencies include depression, but this link is largely ignored in modern psychiatry. Fortunately, more and more research demonstrates that high-potency, broad-spectrum micronutrient supplements can be as effective as psychiatric medications without the safety issues (4).
5. Acetyl-l-carnitine
Acetyl-l-carnitine (ALC) is naturally occurring amino acid that improves brain energy metabolism and has been shown to effectively treat depression in a number of different studies (5). It has no more side effects than placebo and is better tolerated than antidepressant drugs. Try 1.5 to 3 grams once daily.
Therapeutic lifestyle change (TLC)
With an increasing amount of good scientific evidence pointing to safer treatments for depression such as time-tested herbs and better nutrition the current preference for synthetic, toxic chemical treatments is beginning to seem like a misguided and outdated practice.
These natural medicines, along with a number of therapeutic lifestyle changes, including a healthy diet, social connection, relationships, time in nature, relaxation and stress management, can play an important role in better helping people who suffer from depression (6).
References:
Lopresti AL, Drummond PD. Saffron (Crocus sativus) for depression: a systematic review of clinical studies and examination of underlying antidepressant mechanisms of action. Hum Psychopharmacol. 2014 Nov;29(6):517-27.
Linde K, Berner MM, Kriston L. St John's wort for major depression. Cochrane Database Syst Rev. 2008 Oct 8;(4):CD000448.
Ströhle A. Physical activity, exercise, depression and anxiety disorders. J Neural Transm. 2009 Jun;116(6):777-84.
Popper CW. Single-micronutrient and broad-spectrum micronutrient approaches for treating mood disorders in youth and adults. Child Adolesc Psychiatr Clin N Am. 2014 Jul;23(3):591-672.
Wang SM, Han C, Lee SJ, Patkar AA, Masand PS, Pae CU. A review of current evidence for acetyl-l-carnitine in the treatment of depression. J Psychiatr Res. 2014 Jun;53:30-7.
Walsh R. Lifestyle and mental health. Am Psychol. 2011 Oct;66(7):579-92.
Tags: Depression, Natural Medicine, Anxiety
Related Articles
Comments