12 minutes of yoga reverses bone loss
Posted on Wed, 18 Jan 17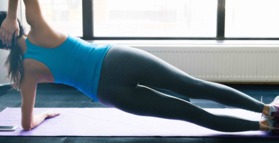 Yoga could be a low-cost, accessible and safe alternative to medication for osteoporosis, with a 10-year study demonstrating that just 12-minutes daily can reverse bone loss.
Osteoporosis affects over 200 million people worldwide and approximately 30% of all postmenopausal women have the disease in the United States and in Europe [1].
And osteoporosis-related fractures are a significant public health problem; approximately 20% of people with a hip fracture do not survive for more than a year from diagnosis, and more than 50% never completely regain their pre-fracture health function [2].
Globally, many people do not have access to medication, and medications may have important side-effects and have questionable benefits anyway, point out the authors of a new study of yoga as a treatment alternative [3].
Over a 10-year study, a research team from The Rockefeller University, Brigham and Women's Hospital, New York University and Columbia University, assessed the effectiveness of selected yoga postures in raising bone mineral density (BMD) in 741 volunteers. Participants were given a 12-minute DVD of 12 yoga poses that were chosen to stimulate an increase in BMD.
Daily practice of yoga improved BMD in spine, hips, and femur of the 227 moderately and fully compliant patients. Mean rate of improvement in total hip BMD increased from baseline by 50% after a mean 23 ± 2 months of yoga.
"The current study supports the efficacy and safety of yoga as a treatment of osteopenia and osteoporosis," commented the investigators. "What is suggested by this study's results is that yoga can reverse bone loss that has reached the stages of osteopenia and osteoporosis."
References:
1. The International Osteoporosis Foundation (IOF). Statistics. Accessed online January, 2017.
2. O'Connor KM. Evaluation and Treatment of Osteoporosis. Med Clin North Am. 2016. Jul;100(4):807-26. doi: 10.1016/j.mcna.2016.03.016.
3. Lu YH, Rosner B, Chang G, Fishman LM. Twelve-Minute Daily Yoga Regimen Reverses Osteoporotic Bone Loss. Top Geriatr Rehabil. 2016 Apr;32(2):81-87.
Tags: Yoga, Osteoporosis
Related Articles
Comments